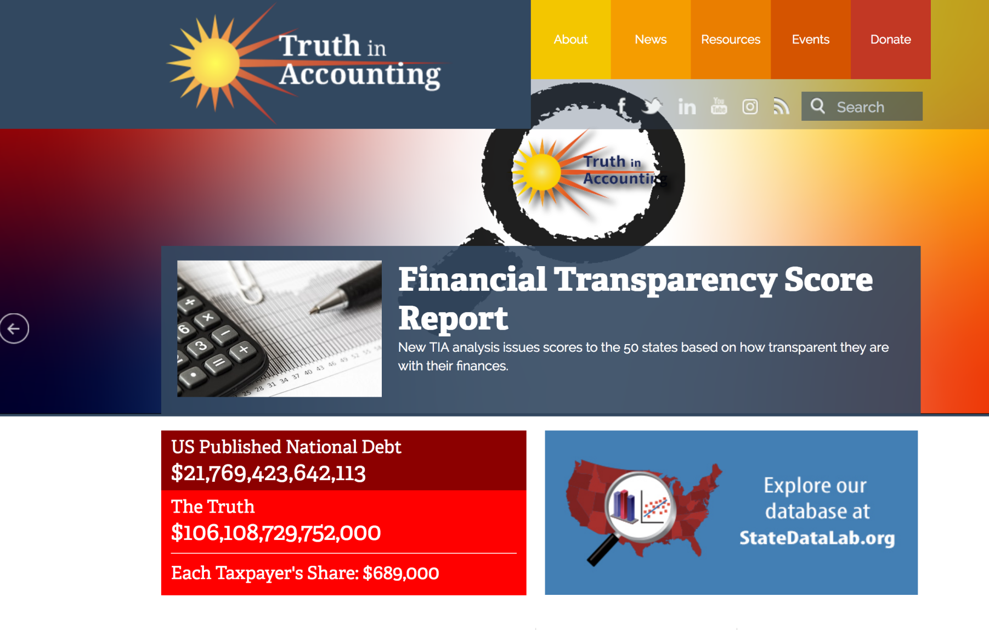 By Bethany Blankley | The Center Square
As 2019 comes to a close, the Chicago-based nonprofit Truth in Accounting (TIA) plans to expand its annual state financial reports to include city and federal government financials, in addition to other economic and demographic information.
Reports will include migration patterns evaluated by United Van Lines. The company's outbound shipments percentage, TIA notes, has reported higher outbound moves in states with relatively high taxpayer burdens, as calculated by TIA, consistent with other data showing residents leaving Blue states for Red ones.
It will also include the ratio of attorneys per capita. Relying on data produced by the American Bar Association, statistics of the number of "active" and "resident" attorneys in all 50 states correlates to state economic conditions, TIA states.
"As a general rule, state governments in states with more attorneys per capita tend to be in worse financial condition," Bill Bergman, Director of Research at TIA, told The Center Square. "States with more attorneys also tend to have higher costs of living."
New reports will include regional price parities comparing states' buying power.
"States with governments in poor financial condition tend to be states with relatively high costs of living," Bergman adds.
Part of the economic analysis includes housing market data. Since 2009, states with governments in relatively poor financial condition have had less of a recovery in housing markets than other states, TIA notes, which also correlates to migration and economic growth data trends.
Forty-nine out of 50 states have some form of a balanced budget requirement, either stipulated by state constitutions or state laws. But "if states balance their budget every year, how have so many states run up massive debts?" Bergman asks.
"One answer lies in cash-based budget accounting practices, including for example a practice of counting anticipated borrowing proceeds as revenue," he says. TIA evaluates a "change in net position" of state budgets as part of its evaluation of their financial wellbeing. Net revenue impacts how state and local government are able to pay bills.
"States that 'walk the talk' on truly balanced budgets are in much better financial shape, and score better on measures like Gallup's polling results for trust in state government," Bergman adds.
New reports will also compare financial conditions to political party leadership. Election-based data in State Data Lab will detail party share of vote totals and voter turnout rates.
"States that tend to vote Democratic tend to be in worse financial shape, and another trend we have noticed is a relatively rapid increase, from low levels, in the share of Libertarian party votes," Bergman adds. "We've also noticed that states with relatively high voter turnout also tend to be in better financial condition, holding other factors constant."